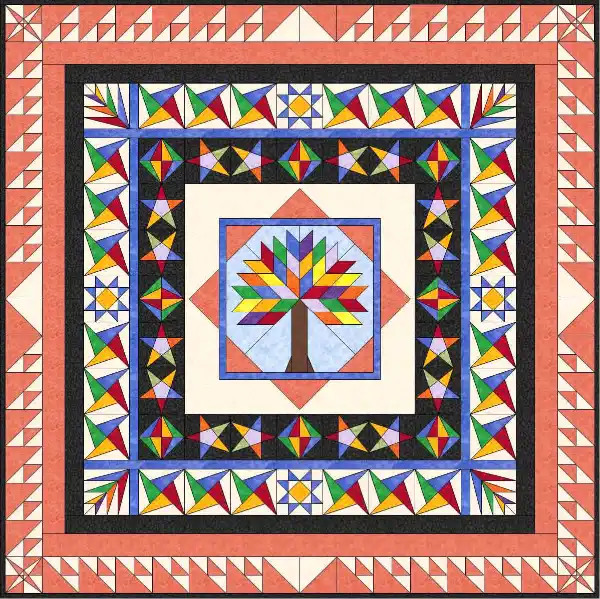 You may either complete the form at the end of this page or call us to get your subscription started.
Note: You must create a Queen of Stitching Wholesale Account before completing this form,
FAQ's
What is Included with the Tree of Life Block of the Month?
Tree of Life has been created for both 5 inch and 8 inch hoops.
The center medallion (tree) is made of four blocks.
Blocks being made in 8 inch hoops will have a center medallion that finishes close to 16 inches.
Blocks that are being made in 5 inch hoops will have a center medallion that finishes at 10 inches.
An additional spacer design will be included for those using 5 inch hoops.
Blocks Included:
Tree of Life Medallion
The Palm
Chinese Lanterns
Star of Hope
Wheel of Destiny
Scrappy Star
Crossed Canoes
Birds In The Air
Half Square Triangle
Easy to follow instructions for all Blocks and Borders
Complete Joining instructions
Several technique videos
Electric Quilt file for auditioning fabric colors and exploring additional quilt layouts with the included blocks
Files are supplied in nine formats: PES, VIP, VP3, HUS, JEF, EXP, SHV, DST, XXX
How can I add value to the Tree of Life block of the month program>
There are many ways that you can add value to our Blocks of the Month before pricing them for you customers.
Suggestions include:
Offer monthly classes coinciding with the release of each new block. Your quilters may not finish all blocks for each design in class though they  can walk away with the confidence they need to finish on their own.
Package fabric for the quilt and distribute it with each design. We will provide you with actual fabric amounts so that you can finish your cutting and packaging with time to spare.
If you are a sewing machine dealer - suggest your quilters purchases extra hoops. We used 7 hoops while making our Tree of Life sample. Things really speed up with what we call batch quilting. Reducing the frequencies for thread changes and design changes really speeds up the quilt making process.
Promote challenges for your quilters - Help your quilters learn that each block design is a tools that can be used in countless ways. You will sell more fabric and your quilters will realize what a value our Block of the Month is.
Need more ideas? …We believe it's our task to help you be successful with our products. Call us for a brainstorming session.
How much does it cost and what is my commitment?
Your cost is $12.50 per unit .
Minimum subscription for first time orders is 8 units.
When you register for our block-of-the-month quilt programs, it is understood that you are registering for the entire program (9 months).
Shipping will be by USPS Priority mail and only actual shipping costs will be charged.
No setup fees are being charged for this program.
Can I add new units to the subscription after it has begun?
Yes, additional units may be added after the original purchase date - in any quantity you desire.
When adding to your subscription all additional past releases will be delivered to you with the upcoming month's release.
Beginning the first month of the program, and for the duration of the program (9 months), you will be billed for the number of units that you are subscribed to + Shipping.
 
If, for any reason, we are not able to charge your credit card, we will attempt to contact you by email and by phone.
Your order will be held until payment arrangements can be made. For this reason, we encourage you to let us know if you receive an updated credit card or expiration date change.
What kind of support is available?
We offer support to both retailers and end users by:
Telephone and e-mail
Train the Trainers sessions can be arranged if the need arises.
If you or you are having trouble, just let us know. We're here to help.