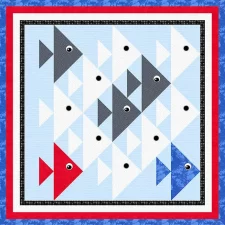 Red Fish Blue Fish
Short Cut Quilt Blocks will revolutionize the way you approach and create quilts. Master blocks provide a versatile and efficient way to piece quilts quickly and accurately. By taking advantage of pre-cut fabric pieces and strategically adding them together, you can make faster quilts with less bulk and waste. Additionally, Short Cut Quilt Blocks offer a wealth of piecing variations that are perfect for creating interesting texture and depth in your quilts.

With these fast and easy blocks, you can design bold, beautiful quilts in no time!
What You Will Learn
Short Cut Quilt Blocks will forever change the way you quilt. Watch part 1 of our 7-part video series to learn how you can create incredible quilts in a fraction of the time required for traditional quilt making.