Clare Rowly's Pearls & Piping Foot
$29.99
Embellish your projects at a whole new level. The Creative Feet brand sewing machine presser feet have been the feet to use for over 30 years! They continue to fit all sewing machines and are capable of trivializing even the hardest of techniques.
Description
Perfect for sewing zippers and bulky trims down!

Guides trims under the needle for you!

Use it to gather fabric automatically!

Used by sewing professionals and educators around the world!

Fits ALL Sewing Machines with a zig-zag stitch!

One of the 3 Creative Feet!
The Pears and Piping foot sews single or multiple rows of piping, beads, rhinestones, chain, cords, braids and it gathers the fabric automatically in addition to sewing in standard and Invisible zippers like no other foot! You will love letting go of the trims and easily guiding your fabric and it fits all sewing machines because it comes with 4 snap on adapters.
NO OTHER foot for sewing piping has the same tunnel design making it capable of sewing just about every round trim made!
Includes:
Pearls & Piping Foot, 4 Snap-on Adaptors, Instruction Booklet.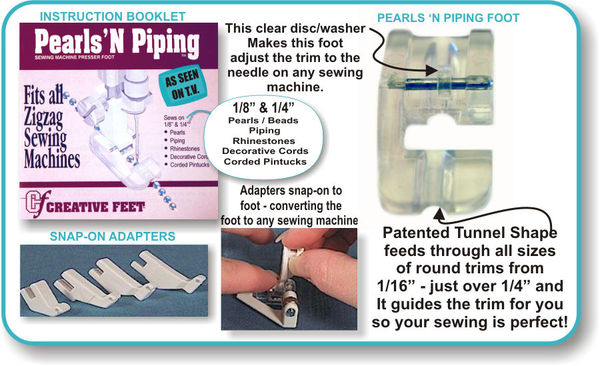 More Information
The Creative Feet Pearls & Piping presser foot was invented to make sewing down trims extremely easy. Simply watch where you're going and let the foot do the rest!
How does it guide the trims?
The foot has a tunnel that keeps the trim positioned directly beneath the needle. This means you can stay confident that your trim will be sewn down perfectly without looking at your needle!
Sew down trims freely!
Because of the control this foot gives you, sewing trims down in circles or other patterns takes no effort!
Will it fit my machine?
Each of the Creative Feet fit all sewing machines that are capable of sewing a zig-zag stitch (virtually every machine). They simply snap on to most machines and using the adapters, included with the foot, they're able to fit all machines.
Only logged in customers who have purchased this product may leave a review.