Description
Frequently referred to as "the Magic Foot" – This foot is:
Capable of over 27 techniques!

Guides along fabric edges for you!

Perfect seam allowances without watching the needle!

The guide is adjustable allowing you to sew many seam widths!

The best at what it does for over 30 years!

Used by sewing professionals and educators around the world!

Fits ALL Sewing Machines with a zig-zag stitch!

One of the 3 Creative Feet!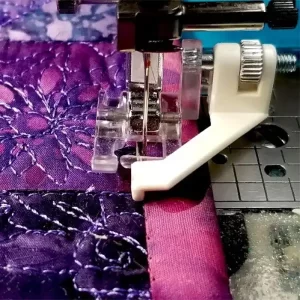 Stitch In the Ditch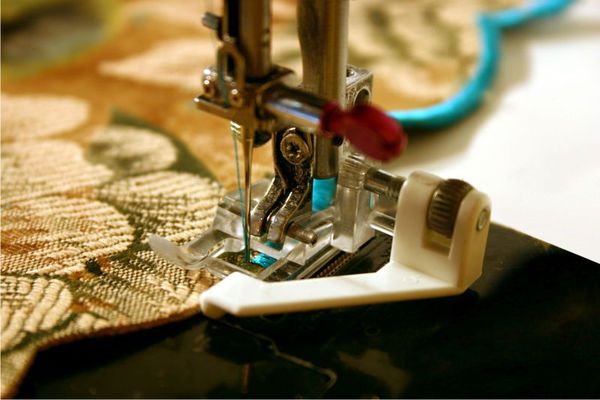 Scalloped Edges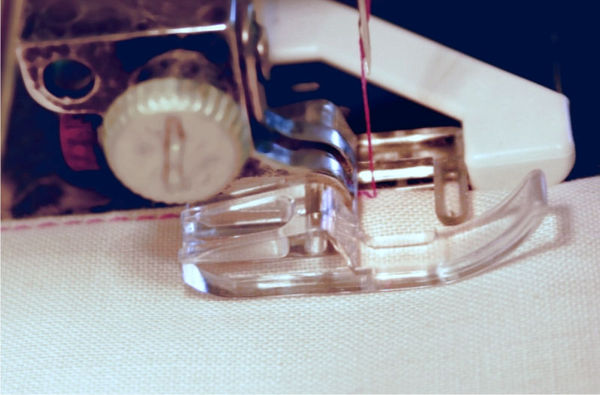 Top or Edge Stitching
Videos
https://www.youtube.com/watch?v=vDVsfscMCOU
The Creative Feet Satinedge presser foot was originally invented for a blind woman over 30 years ago to make edge stitching painless. Today our foot is still the best at what it does.
What makes it special?
The foot has a guide that you simply press the fabric against, while sewing, for perfect stitches every time. No more hopelessly staring at your needle attempting to see where the needle is stitching. Simply rely on the foot to do the work for you.
Trivializes the hardest of tasks!
For satin edge stitching, the foots specialized guide has a metal pin that you sew over which further aids in guiding your fabric. This works so well that you're able to completely let go while sewing with amazing results.
When sewing seam allowances you simply press your fabric against the foot and sew. You need not even look and you can sew at full speed with perfect seems every time.
Stitching in a ditch is made painless as you simply rest the guide on the fabrics edge and let the foot guide for you!
Since you're not staring at the needle you're able to do needle turn applique using a 1 mm width with ease (usually hand sewn because of its difficulty).
Save hundreds of dollars!
The Creative Feet Satinedge foot is truly one of kind. It replaces the need for a Serger sewing machine and 10 different sewing machine feet! In fact you can complete over 27 different techniques with just this foot.
Feet you'll no longer need:
top stitching foot, edge stitching foot, edge joining foot, stitching in a ditch foot, pintucking foot, blind hem foot, 1/4 in foot, open toe applique foot, satin stitch foot, walking foot
Just some of the techniques possible:
applique, cutwork, lettuce edging, petite applique, satin stitch edging, trapunto applique, corded satin stitch edging, fishing line edges, overcasting, wire edges, edge stitching, seams, pin tucking, stitching in a ditch, top stitching, invisible applique, garments, invisible binding
Will it fit my machine?
Each of the Creative Feet fits all sewing machines that are capable of sewing a zig-zag stitch (so pretty much every machine). They simply snap onto most machines and using the adapters (included with the foot) they're able to fit all machines.
ATTACHING THE CREATIVE FEET TO YOUR MACHINE
If your machine has snap-on feet:
Try to snap your foot onto your machine.
If it doesn't snap onto your machine's snap-on adapter, you will remove your machine's adapter and place our adapter on the machine in its place.
If your machine is a Bernina machine go to this page of our site to learn more about your machine's options.
If your machine has feet that screw on, you will select from one of our adapters (the one closest in length) and snap it onto our foot then screw it on just as you currently do.
If you have an industrial sewing machine, you will most likely use our HIGH (B) shank. Your machine must have the screw to attach the foot on to the machine on the left-hand side.
We can modify by special order only our feet with your supplied shank for some Industrial sewing machines. Please email us to get the details.
PFAFF MACHINES AND OTHERS THAT HAVE THE EVEN-FEED WALKING FOOT FEATURE
1. Push down on the mechanism and release it. (It will slide up and out of the way.)
2. Loosen and remove your machine's snap-on adapter. (screw is located on the left side of it.)
3. RE-START the screw that held it onto your machine.
4. Slide our (c) shank (smallest one) from inside the kit up and under the screw.
5. Tighten the screw using a screwdriver.
6. Slide the foot that you want to use under the slot on the snap-on shank and push down on top of our (c) shank if the bar doesn't cause the foot to snap on.
7. To remove the foot, push down on the foot on one side and it will drop off.
*Bernina machines that use long shank-style feet will need a low shank adapter for the feet to attach to your machine.
Only logged in customers who have purchased this product may leave a review.